Simple motorcycle maintenance tips for office staffs
Ngày đăng 25/03/2020, 10:40
Nowadays, office staffs are quite busy with their jobs, deadlines, etc…, they don't have much time to pay attention to their vehicles which serve them every day. So, the question is "Should we use motorcycles carelessly and replace with a new one when our "old friends" got break?" Why don't we learn some simple tips for ourselves to take care of our vehicles and then we can use money for the other things.
The basic principles of caring motorcycles.
The first one is taking care for engine. We know that, engine is the heart of the vehicle, the strong heart will help the vehicle work constantly. Due to it, the engine is the very first thing we have to focus in.
Lubricant is the most important factor when discussing about engine protection. We should follow the period of changing oil to make sure that vehicle always work with the best performance. As usual, there are not much officer interested in taking care of their motorbike until when their vehicles have problems, by then everything seems to be late because we have to pay a lot of money to fix it. So how to check and change lubricant in time? We can use mark the Kilometer at the last time we changed lubricant and plus about 1500 – 2000 km.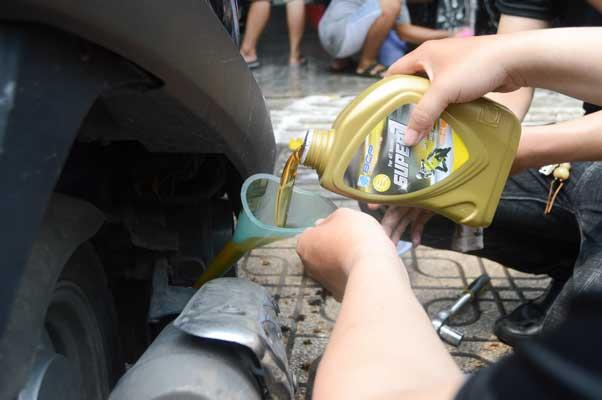 We can also use the Timer of Smart phone to remind us, we can set 1 month or 2 months depends on intensity of movement. It will make sure that we won't forget to change lubricant for our vehicles. Furthermore, we should remember to use the suitable lubricant for vehicle.
The next one is about engine and combustion chamber cleaning. This is also the important thing need to be cared. The clean motorbike will be the best one for everyone. Just imagine you have a very important meeting and your bike have a trouble when you are on the way to work, you DONE.
Therefore everyone should clean combustion regularly. Cleaning combustion and engine is very easy, we can buy